*Sings* I'M BACK! I bet you all missed me, right? You know what, I don't bet, I know that you that missed me! 😉 I mean you couldn't possibly live with out me, I'm your source of entertainment! (Okay maybe not) Tell me, what did you do for April Fools? (I know it already passed, but I didn't get to hear!) Also, what did you do for Easter? Happy Easter, btw! 🐤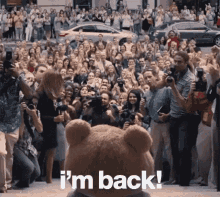 I hope you are all healthy and happy. I also hope your writing is healthy and happy too and that you are able to meet your daily, weekly, and monthly writing goals. And if you are able to reach your goals, make sure you reward yourself because that is no easy feat! ❤
Today's post and most of my posts are inspired by things that I've been struggling with and that many other writers have been struggling with. (And this also applies to all you bloggers out there too!) I've found that when I write about how I've tried to work through it and try to help you all work through it, it ends up rippling back to me and suddenly my problems have become a little bit easier. So today I'm here to warn you about two things you should never do as a writer.
Let's jump in!
1. You should never compare yourself to others' writings.
I've been posting one of my WIP novels on a novel app and haven't been getting much feedback on it. And here I go to read another story on there that has lots of comments of people saying how fabulous it is and well descriptive. I even read the first chapter and was immediately pulled in. It was truly amazing.
Aaaaaand I go back to my story with the thought: MY NOVEL SUCKS. Which it probably did. I only have about a year's worth of writing experience, I'm only a teenage writer, and I wasn't as smooth and descriptive in my writing as that one teen author. I was just ready to give up.
Here's where we pause. Do you see what is wrong with this story? I was proud of the writing I had done. And if you compare yourself to another writer, you are basically throwing all that down the drain. And not to mention, everyone is on their own level of writing experience. That one author may have been writing for ten years! And here I am comparing my one-year experience to a ten-year experience. See the problem? Here's the breaking news to you:
ALL WRITERS ARE UNIQUE! That's the point. We aren't meant to be the same. We all have a different purpose in writing. That's WHY we write. And if you compare yourself, you are fogging up YOUR purpose. Take, let's see, Keeper of the Lost Cities and Harry Potter. If you have read both these books, are the writing style the same?? NO! But yet, readers all over the world still find these books, read them, and enjoy them.
Takeaway: YOU DO NOT HAVE TO BE THE SAME AS EVERYONE ELSE. Because as a writer, you don't want to be the same as someone else. In fact, you won't be the same as someone else. You are a unique person with a unique purpose. Readers will still love your books. They will love you for who you are. Don't compare yourself to someone else. Stay true to your writing purpose.
Now that I've looked back at how I was comparing myself to that one girl, I can see now that we are different writers. We won't have the same writing style. We will never have the same style. And that has helped me to know that I can be me. And that's okay. I can write differently. I have my own unique style and I'm going to rock that style.
Say that to yourself. Say it out loud right now.
I have my own unique style and I'm going to rock that style!
2. Do not edit yourself out of your writing.
I've also been struggling with this too. I would go to write something down, read it over, and think: "Oh this is stupid." or "Oh everyone will hate this." or "Everyone will think this is weird, I'll just take it out and save myself some embarrassment." NO! Okay, if you put something down on that manuscript of yours and it sounds like you, keep it! Now, I'm not saying keep all the weirdly phrased sentences. Don't do that. But keep the descriptions and the sentences that sound like you.
One of my good author friends once taught me that author voice shines through the description. Going back to the writing app example, I was bummed because my words weren't all pretty and flowing like that one author's description was. And that's okay. I described the scene as to how I would see it and that is where my voice shines through.
If you've read KotLC like me, you will notice that Shannon Messenger uses a lot of all caps letters and dashes. And you know what? That's her writing style. If she were to match some other's author style, then it wouldn't be her. Her books wouldn't be the same.

Your novel, your book is your way to tell your story. It's your way to tell the world that "Hey I'm out here and you need to listen to what I have to say." Why blow all your hard work, your story, away by editing yourself out of your book? This is your story! You have to be the one to tell it. And you can't tell it by "following the rules." Rules were made to be broken. You have to be the one to push the limits. (And hint, hint, there are NO WRITING RULES. There is no one specific way you have to write.)
It's okay if it is different. That's what we like, right? That's what the whole first tip was about, being different. I promise you that if you are JUST YOU, readers will love you anyway. Your family and your friends love you anyway. That's why people love you because you are you! No need to follow the rules, just be you. No need to try to be something else when you can just be you. Don't be afraid to shine through your writing.
---
For a super special blogging series that I've been planning and working on that will be coming up, I need a bit of feedback. Would you be so kind to fill out this poll for me? All need to know is what your favorite genre is. (I need to see what the blogosphere likes! XD) Or if you don't want to fill out the poll, you can write it in the comments below. Thank you very much for your help! ❤ (Also did I forget any genres??)
That's all I have for today! I hope that this helps you who are reading this with your struggles. And if you know someone who is struggling with this problem, send them to this post! If you like and want more of these posts, you can check out my writing tips blog here.
If you need some tips on a problem and/or want to request a specific post, I'd love and prefer the suggestions. Don't hesitate to contact me through my contact form.
Thank you so much for tapping into this post! Oh, and next post will be a bit more of a fangirl related post since you all are probably getting tired of the "writing tip posts". 😉 Have a lovely day!